Sculpture
Porcelain Sculpture
In 1972 after working in Stoneware clay with images that dealt with war, I began to look at nature (shell forms) and my family for inspiration.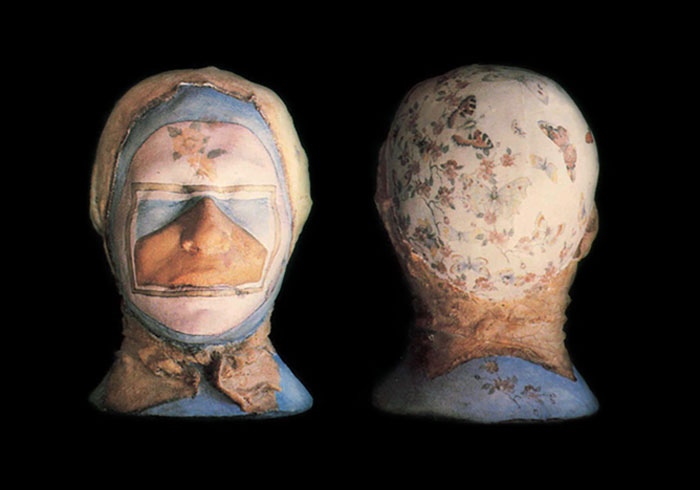 Dream Sequence, 1979, glazed porcelain/china paint, cloth, decals, 12 x 11 x 9 inches
On permanent view at the Smithsonian American Art Museum, Washington, D.C.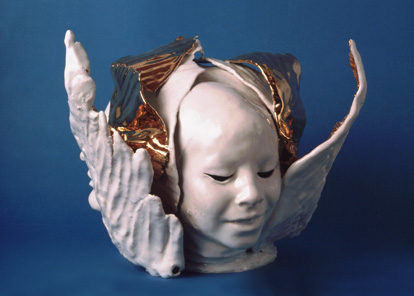 Child, 1982
glazed porcelain/china paint and gold, 18 x 12 x 14 inches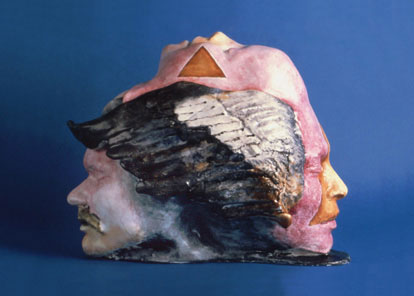 Triangles, 1981
glazed porcelain/china paint, 17 x 12 x 11 inches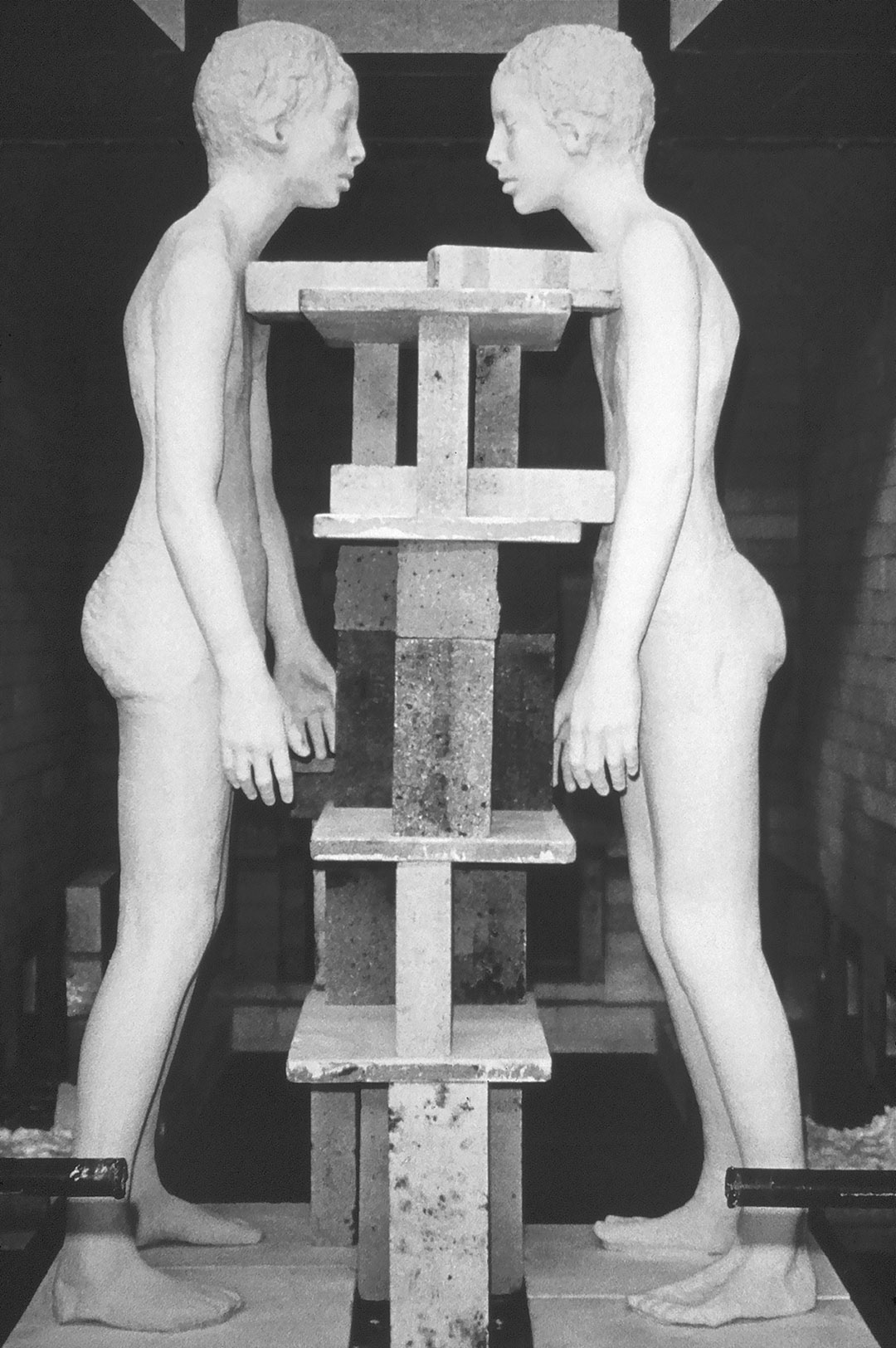 Adam, 1979, high fired porcelain, unglazed, 60 x 24 x 24 inches
………………….
One day when my son Adam was 14 years old, he asked me what I would like for Mother's Day. At that moment my hands were full of porcelain sludge. I said how about letting me take an imprint of your body? He said OK.
I had help from my husband David making of the first mold as we began wrapping Adam in plaster bandages. I worked as fast as I could… then threw him in the swimming pool to wash up.
After more preparation, the last step involved delivering my unfired porcelain sculptures to a commercial fire kiln. The photo (left) shows two figures (I actually managed 3) for the firing – but only one survived.
I was told that with this experiment in ceramics I had created the tallest ONE piece porcelain sculpture ever made in a two-piece mold.
In December 1979 I exhibited the final sculpture, and a photo series of the process involved, at Jaqueline Anhalt Gallery, Los Angeles.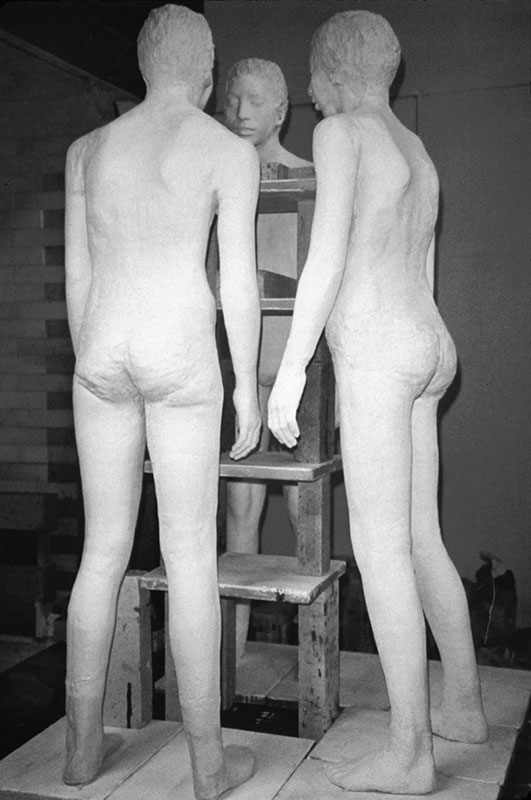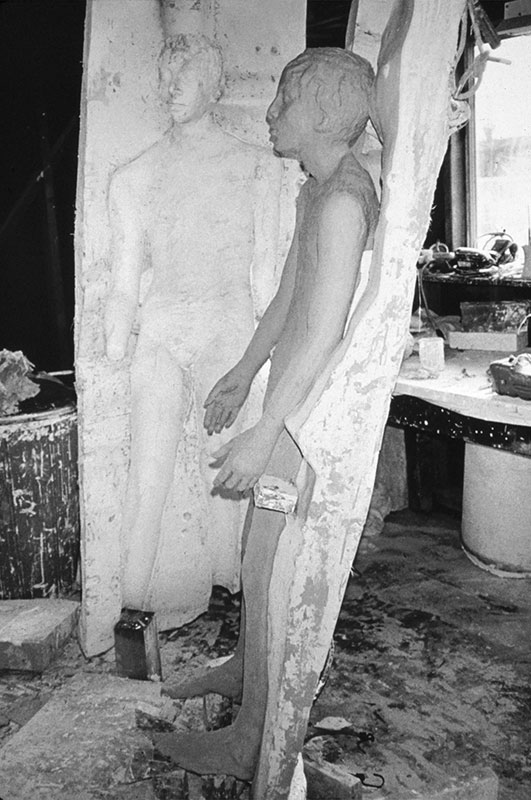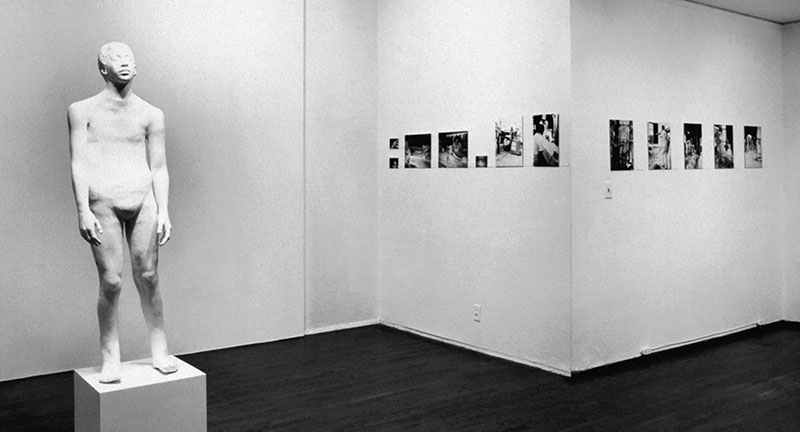 Cold Cast Bronze
This group of heads made with cold cast bronze (a mixture of bronze powder and acrylic material for binding) came at the end of the head series, again using the molds on hand, building support structures to hold up the dipped crochet work to dry. I created 4 sculptures with this process.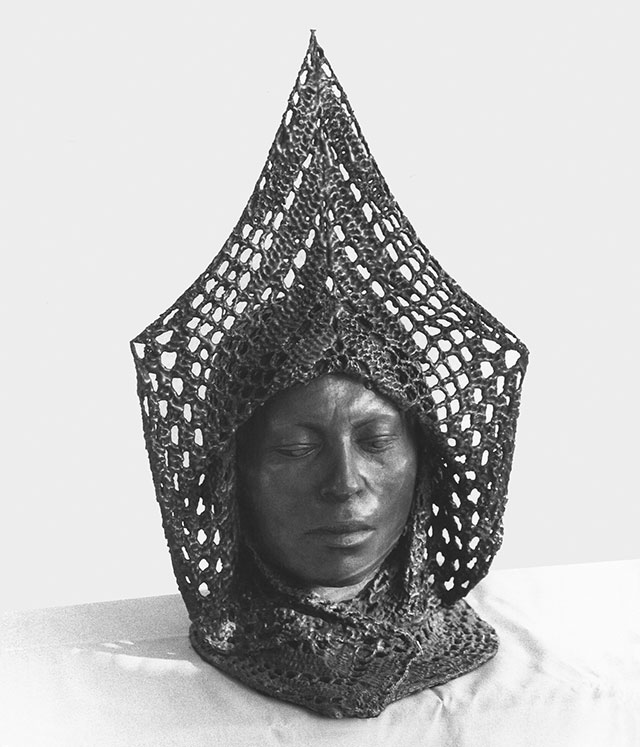 Head, 1979, cold cast bronze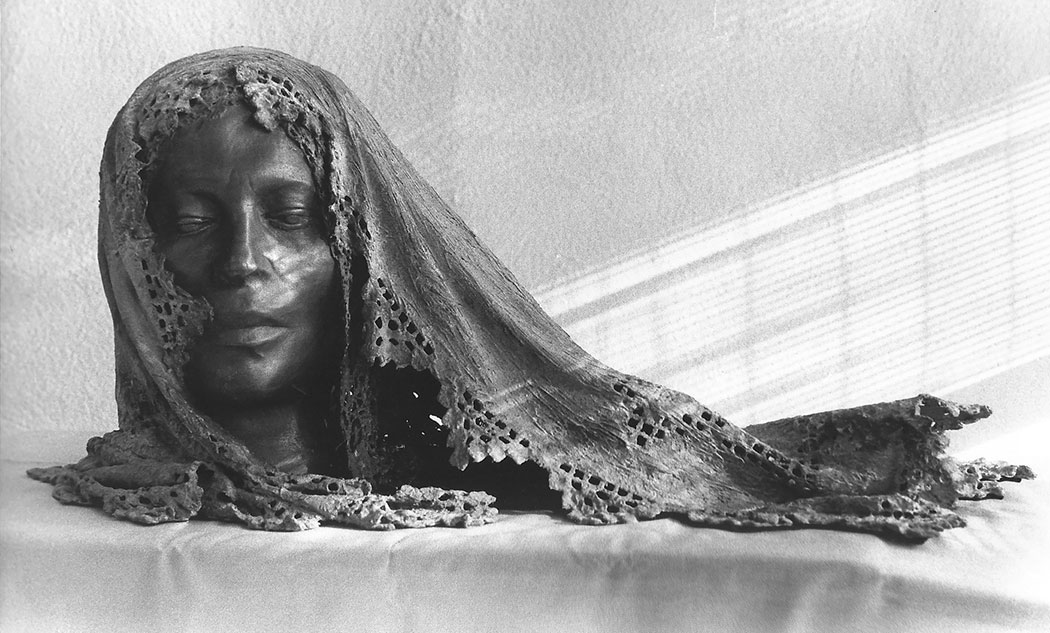 Siren, 1979, cold cast bronze
Handmade Paper Sculpture
This series developed as an interim series between the porcelain heads and what was to come next. I used the same molds for the handmade paper as I used for the porcelain, plus a new mold made from a bird's wing. I created the paper and slurry for these works by cooking flora and vegetation growing in my garden.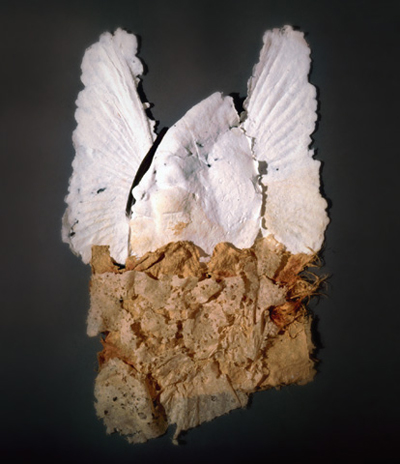 Child, 1983
handmade paper: linter, corn, papyrus, 24 x 18 inches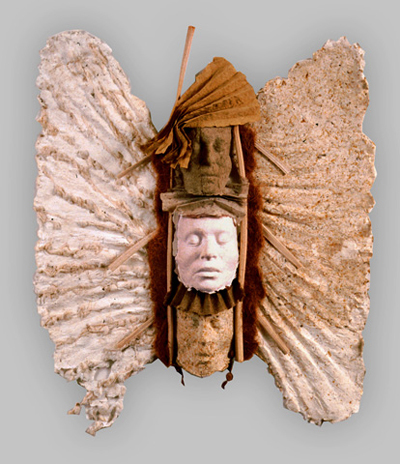 Generations, 1982
handmade paper: linter, corn, papyrus, carob, 60 x 48 inches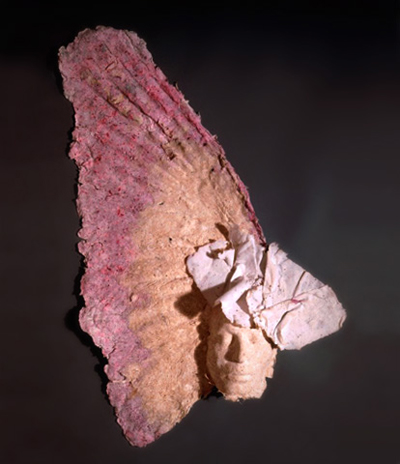 Pink Wing, 1983
handmade paper: linter, beets, corn
Hands
Hands to me represent the symbol and metaphor of creation, the interaction with our time and issues of the day.
In my porcelain work the hands emphasized beauty, serenity. Lately, in the bronze hands the emphasis is on issues of the day; money, torture, falling through the cracks in these hard times.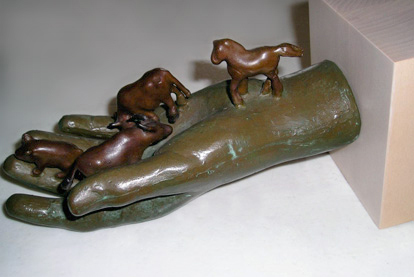 Farm Hand, 2007
bronze/patina, wood, 7 x 4 x 14 inches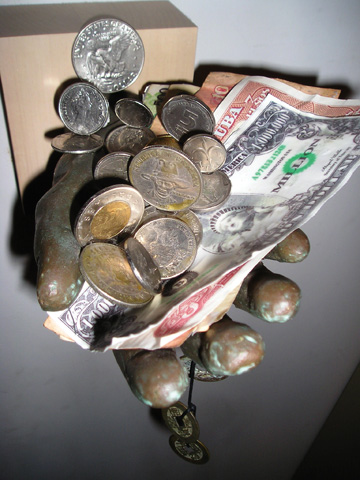 Spheres of Influence and Power, 2007
bronze/patina, wood, money, 10 x 10 x 10 inches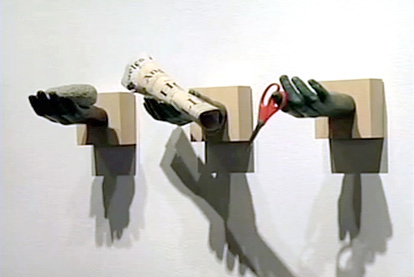 Childhood Games; Rock, Paper, Scissors, 2007
bronze/patina, wood, 6 x 36 x 12 inches